Blackmer STX1220A Introduction
Semler Industries and Blackmer are proud to introduce the new STX1220A Stainless Steel pump for Light-Viscosity Chemicals.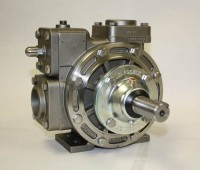 "Grand Rapids, MI – Blackmer announces a new product designed specifically for the light viscosity chemical markets – STX1220A . In October 1998, Blackmer introduced the STX3 Transport Chemical pump. The stainless steel mechanical seal, ball bearing pump was developed to pump corrosive chemicals that are compatible with 316 stainless steel material. The STX3 has proven to be a heavy-duty reliable pump for the chemical transport market. In recent years, end users began asking for a stainless steel pump flow rates than the STX3 pump, which provides up to 250 GPM (946 LPM). Many customers asked for the same design characteristics, but with flow rates in the 50-70 GPM (190-265 LPM) range. With that background and history, Blackmer has designed a new stainless steel pump to meet the market needs of the low viscosity chemical market."
Contact Semler Industries for more information or click here to see our line of Blackmer pumps for the Chemical market.