Graco Announces "Product of the Year" Award
Husky 1050 Pump Family Wins Product of the Year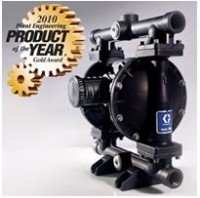 Husky 1050 air-operated double diaphragm pump family won Plant Engineering's "Product of the Year" Gold Award. According to the magazine, Product of the Year is recognized as one of the most prestigious award for new products in the manufacturing market. The 1-inch Husky 1050 pump family represents the best innovation for fluid handling products.
Designed with additional features that optimize performance, the Husky 1050 includes a stall-free modular air valve for low pulsation and a smooth changeover. A square four-bolt manifold joint design provides even sealing pressure and prevents fluid leaks, while a one-piece center section virtually eliminates air leaks.
Graco's Husky 1050 pumps are available in six materials of construction, including aluminum, polypropylene, conductive polypropylene, PVDF, stainless steel and hastelloy fluid sections to better accommodate a variety of applications and have multiple ports for easier installation. Graco's pumps provide process solutions for low to high viscosity fluids and are built for years of reliable service.
"We're extremely pleased to be recognized by the readers of Plant Engineering Magazine for the outstanding performance and quality of the Husky 1050 pump," said Kellie Momchilovich, Product Marketing Manager, Industrial Products Division, Graco Inc.
Winners were selected in 13 different categories, including Fluid Handing.
Learn more about Graco's Line of Pumps here