Semler Industries is proud to be a distributor for Micro Matic, a leading manufacturer of closed chemical systems.  Their system consists of the reliable EPV dispense coupler or high-quality stainless steel RSV container valves and filling & dispensing couplers.

In the Diesel Exhaust Fluid industry, maintaining high-purity, contaminant-free DEF is crucial to prevent the malfunctioning of today's SCR systems.  To meet these needs, the Micro Matic EPV and RSV valves and couplers help to ensure that each tote is "Closed, Sealed & Secure"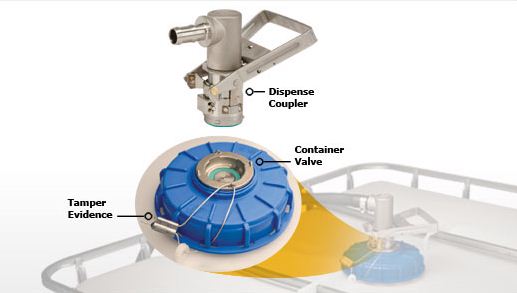 Closed:  Each tote is completely closed-off to the potentially dirty environment to prevent contamination of the high-purity fluid.
Sealed:  As soon as the Micro Matic Fill or Dispense Coupler is removed, the EPV or RSV spring loaded valve automatically seals the tote.
Secure:  Tamper-evident steel cables indicate if the tote cap has been altered or removed.
Micro Matic Closed Chemical Couplers and Valves can be utilized on a One-Use tote or on Returnable/Refillable tote systems.
The Micro Matic Closed Chemical System featuring RSV Valves and Fill & Dispense Couplers is available as optional equipment on the Semler Industries DEF Transfer System, the DEF Distributor 70